Tikka T3 Lite Rifle Review
Tikka T3 - I have just taken delivery of a new Tikka T3 Lite synthetic. My prime objectives when purchasing a new rifle were reliability, accuracy and great value and there is no doubt that this rifle ticks all three boxes.
(Above: Tikka T3 in 6.5x55 with Schmidt & Bender Scope and A Tech Moderator)
Tikka is Sako's sister company and as a result the Tikka T3 shares many of the Sako's finer points, including a great trigger and Sako's high-grade stainless steel for all its metal parts. The stock itself is glass fibre reinforced copolymer polypropylene (whatever that is) with checkered patterns for a firm grip.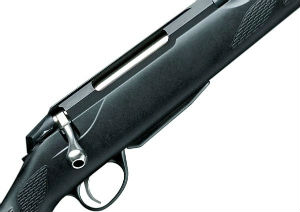 Tikka bolt action rifles originally came in two action lengths, however the T3 is built on one. The bolt shank is a good length and makes for easy cycling, and the pear shaped hollow knob is also well designed and attractive.
(Left: The Tikka T3, a hugely popular choice amongst UK Deer Stalkers)
The Tikka action itself is based on a two locking lug system and the single-column detachable magazine holds 3-4 cartridges.
Like that of rifles from Tikka's sister company Sako, the single stage trigger is excellent and breaks smoothly and predictably and can be adjusted from 2 to 4 lbs. The safety is a two stage type and locks the trigger and the bolt handle when engaged. A red indicator also protrudes from the striker race, illustrating clearly when the rifle is cocked.
I selected my Tikka T3 in 6.5x55 Swedish, a calibre with which I am delighted, and I have found this combination to be superbly accurate and well deserved of Tikka's reputation for out of the box accuracy.
Due to the fact that this is a very moderately recoiling calibre I have had the confidence to add to what is already a light weight rifle, (weighing in at just 6 ¼ pounds) an A Tec moderator. This set up means that I can use this super light combo' without fear of excessive recoil.
(Above: The Tikka T3 Lite Synthetic)
Sure there are one or two aspects of the Tikka T3 rifle which are not ideal, for example the safety catch might prove a little difficult to operate with gloved hands, and the magazine appears a little cheap, being made of plastic, but that said at almost half the cost of a Sako 85 there is no doubt that the Tikka T3 is great value for money.
Currently the Tikka T3 has an RRP of around £795-00. I'll challenge anyone to find a new rifle of this build quality, reliability and out of the box accuracy that will compete with the Tikka T3 in this price range.
If you are after an affordable, accurate and hard wearing rifle, I would highly recommend the Tikka T3. It is a one of the best selling rifles in the UK and to my mind rightly so.
NB: Since writing this review Tikka have introduced the Tikka T3x, the latest in the series of Tikka rifles, which now consists of some 26 differing models, models that range from Tikka T3x Tactical to the T3x Hunter, T3x Varmint, T3x Sporter, T3x Lite, T3x Compact and many more variants to meet the demands of a host of different disciplines. To read about the Tikka T3x simply follow this link: tikka-t3x-review
For a host of other Rifle Reviews click on the following link: rifle-reviews